If you're working from home, you might have faced the temptation of sleeping in during the morning several times already. Why not, since you don't have to deal with the grueling travel time that it takes to get to work regularly, right? However, this might have led to you waking up just in time for your designated clock-in time—and skipping breakfast as well.
While you might think trading breakfast for more sleep is a good idea, this also proves detrimental. Breakfast
kickstarts
your metabolism which helps you burn calories for the day. Aside from replenishing your body with the blood sugar you lost upon waking up, it also provides you energy and helps with your concentration.
Since working from home can give you more time and freedom to make meals other than the usual coffee-and-bread combination in the morning, here are some simple breakfast ideas packed with nutrition that you can try.
Granola and yogurt bowls
A great thing about granola and yogurt bowls is that you can try out different flavor combinations each day. While they can both be served for breakfast separately, mixing granola and yogurt makes a more well-balanced meal. 
You can incorporate your favorite fruits like bananas, mangoes, apples, papaya or strawberries as well as nuts, seeds, chocolate syrup or peanut butter for more nutrition and variety. It takes five minutes to make a granola and yogurt bowl, but if you want to make it even more personalized, you can also try
homemade granola
recipes. 
Crustless quiche with summer veggies
This custard-like treat can also be simply described as egg muffins with vegetables. This gluten-free
quiche
only requires eggs, milk, cheese, olive oil, and vegetables like spinach, squash and green onion. If you want your eggs fluffier, you can skip the milk and add more eggs. For an additional dose of protein, you can also incorporate meat like sausage or bacon to the mix.
Baked egg casserole with greens and cheese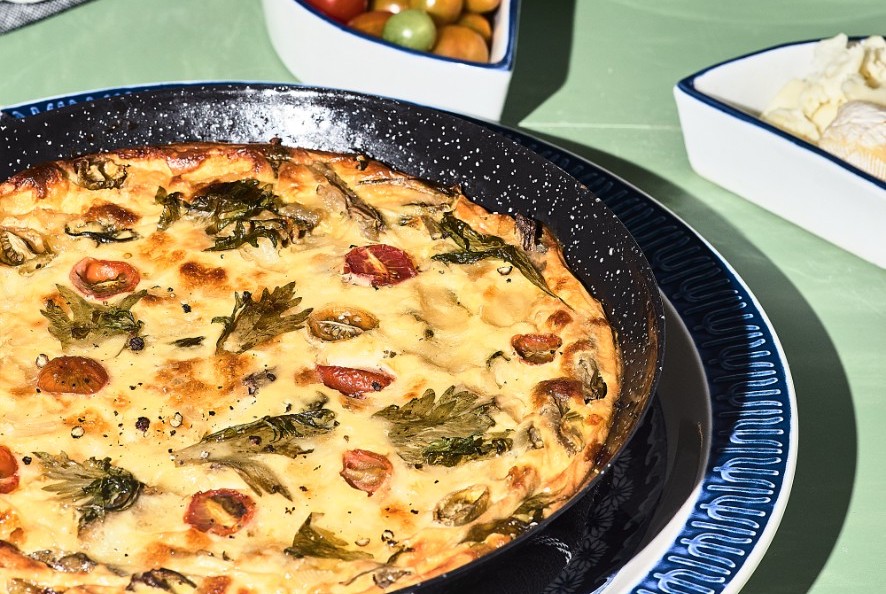 This Nolisoli recipe is a creamy treat for egg and cheese lovers. Packed with nutrients, this recipe also contains several local vegetables like Baguio beans, sigarilyas and alugbati.
[READ:
Breakfast idea: baked egg casserole with greens and cheese
]
Huevos rancheros 
This classic Mexican breakfast
made up
of fried eggs served on hot corn tortillas and smothered in cooked salsa will definitely keep you full until lunchtime.  Using just olive oil, onion, tomatoes, chili, chili powder, adobo sauce, tortillas, butter and eggs, huevos rancheros only takes 20 minutes to cook.
If you don't have pre-packed tortillas, you can
make
one yourself using all-purpose flour, salt, baking powder, olive oil, vegetable oil and warm water.
Avocado scrambled eggs
If you have some time to spare in the morning, consider
amplifying
your regular scrambled egg meal by mixing in avocado and some bacon strips. 
Instead of avocados, you can also opt for green pepper, onion and tomato as
add-ons
to your scrambled eggs recipe.
Header photo by Alexander Mils on Unsplash
Get more stories like this by subscribing to our weekly newsletter here.
Read more:
Breakfast-in-bed-friendly recipes perfect for Mother's Day
Make your own Mcdo breakfast pancake platter with cook-it-yourself packs
10 quaint breakfast spots to try in Rockwell